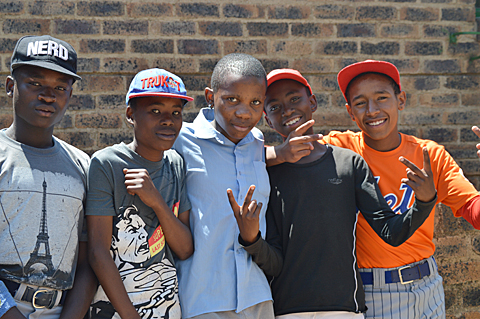 Most of my readers know that one of my projects while living in South Africa was helping the Alexandra Baseball Club.
"Helping" could mean a lot of different things. Some days it meant I was begging friends to bring used baseball pants from the U.S. when they came to visit. Other days it meant I was driving through half of Johannesburg all day running errands with Tedius, who always had a long list of places to go on those days. It was always an adventure.
For those of you who have not heard my Alexandra story, you can read about it in my recent article, How Baseball is Making a Difference in South Africa on SA People. It describes events until the day I handed over the reins to Andy and Natalie Irwin, but the story of course doesn't end there. Read below about Alexandra Baseball today, almost three years after I left. It continues to struggle, but it also has achieved some amazing things.
With success come financial challenges
"Alexandra Baseball has gotten really big and the players have gotten really good," says Natalie Irwin, who with Tedius Mncube is the glue that holds everything together – from organizing equipment drives in her native North Carolina to making polony sandwiches and updating the Facebook page to keep the increasing number of followers up to breast. There are now close to 200 kids coming out every Tuesday to Friday for after-school practices, and among those 45 players are picked to compete on several U15 and U18 teams coached by Tedius and Andy. Peter, who is 16, has also started coaching a U12 team, an effort for which he recently earned a Lead SA Award.
But it's not easy. In American suburbia and some South African suburbs, parents easily lay out thousands of rands each season for their child to play a sport. They drive them to and from practice and to all their games, which take place on fields nicely maintained by the local authorities, and more often than not they stop somewhere on their way home to feed their hungry offspring.
In Alexandra, no one can pay anything and no one has a car. Everyone walks across the township to get to school and baseball practice, but the only way the players can get to their away games is by minibus taxi, which costs ZAR 2,000 for three separate Sunday games. Sometimes Andy and Natalie use their own cars to pick up players and take them to games, but most of the time there isn't enough room. They also try to provide lunch when possible, because it was soon clear that most kids didn't have enough money to buy their own lunch. "Our local Fruit and Veg store gives us a great deal every week on bread, polony, fruit and water," says Natalie. On top of that, they pay the coaches small monthly stipends, as for some of them coaching is the only job they hold. All in all, expenses can easily run up to ZAR10,000 (about $730) in a busy month.
The other big challenge is raising funds to send the kids to provincial and national tournaments. It is a source of pride that each year many Alexandra players qualify for the provincial team, but none of their parents can afford to pay for the uniforms, let alone transportation and hotel expenses. Gauteng Baseball is not in a position to provide much funding as some of the other clubs have their own struggles. Last year, enough money was generously donated from individuals and corporate grants to pay for 23 players from Alexandra as well as 3 coaches to travel to a Durban tournament and the National Baseball Championships. But each year the struggle continues.
"We need constant donations to run this club properly," says Natalie.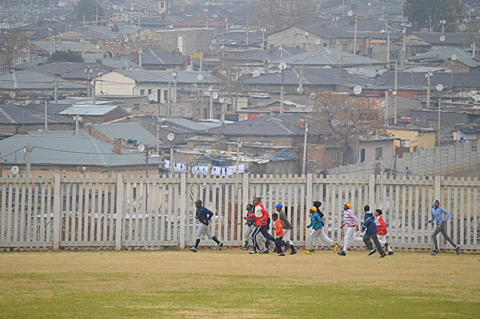 Ingenious ways of sourcing bats, helmets, mitts, and uniforms
What's also always in short supply is equipment. Not surprisingly, none of the kids show up ready to play but have to be handed everything, starting with cleats to replace their sandals or often bare feet. Donations from all over the world are used to cover the most urgent needs. A friend of mine lobbied her local baseball team one year, and that season Alexandra proudly entered league play in the blue-and-gold uniforms of Kettle Moraine High School of Wisconsin.
Piling equipment into my trunk and laying it out on the field for the kids to try on for size was always one of my favorite outings in Alexandra. Getting it to South Africa proves to be the big challenge which often involves several handoffs between virtual strangers to help the gear along to Africa. It is always a stroke of luck when a new expat makes the move to South Africa and offers up a corner of his or her container space for a few well-stuffed baseball bags, but it can require quite a bit of logistics and additional expense to make sure it's in the right place at the right time.
There are other challenges bedeviling Alexandra Baseball that money alone cannot fix. There is little parental involvement which places even more responsibility on the coaches to get the kids to practices and games. Many older players graduating high school find themselves without job prospects because they lack the necessary skills. Natalie is currently looking into ways to find tutors and trade school opportunities but this has proved very difficult. There is always yet another hurdle to tackle before baseball can properly be played, and there are the occasional weekends where it just does not work out. A child does not show up to meet the taxi, the taxi driver does not pitch, or the many unexpected surprises of township life get in the way.
And yet playing baseball is the very thing that gives everybody hope. The love of the game is what makes these kids hustle over to the Sports Complex after school, pick up a well-worn mitt, start throwing the ball, and perhaps foster big dreams of one day playing baseball in the Major Leagues.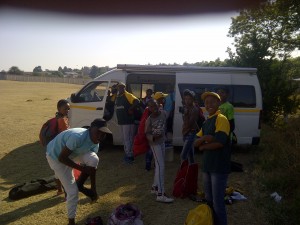 How you can help
1. Donate. Visit our Nonprofit organization Africa On Deck for more information.
2. Spread the word. Like Alexandra Baseball on Facebook. Share this story on social media, with your friends, at work. It just might get to that baseball-fanatic philanthropic billionaire I know is out there somewhere.
3. Pack your bags. Traveling to Johannesburg, South Africa? Consider collecting gently-used baseball gear from your local club or high school and taking a few extra bags on your trip. You might just have to fit in that personal tour of Alexandra you've never had. (Or we can arrange for pickup anywhere else.)
4. Become a Sponsor. Perhaps your business or workplace is looking for a community outreach project and Alexandra Baseball sounds like just the ticket? Do let us know. (And if you are Mercedes-Benz, we could use one of your Sprinter minibuses!)
* Contributions are cleared through the Gauteng Baseball Federation which is managed by the South African Baseball Union (SABU).